Are you currently in search of the right gutter color for your home?
When it comes to seamless gutter colors, there is no shortage of options.
Whether you like to stick with the common eggshell or white aluminum gutters, or you find yourself leaning towards the really popular black gutters, today we will help you find the right gutter color for your home!
Our goal today is to help you:
Identify possible seamless aluminum gutter colors
Figure out which gutter color best fits your home
Process for obtaining new seamless gutters for your home
>> See everything about gutters at our Gutter Learning Center
Let's dig in!
Possible Gutter Colors
As you can quickly see, when it comes to gutter colors, there certainly isn't a shortage of options:
Your custom seamless aluminum gutter color options include:
Cream
Clay
Brown
Bronze
Black
Wicker
Dark Green
Dark Grey
Eggshell
White
Ivory
Light Gray
Musket Brown
Red
Typically, the best thing to do is to replace your existing colors with the exact same color. Siding, windows, trim, door/shutters and gutters are usually color-coordinated.
In other words, they all match one another. However, this doesn't mean you can't change your gutter colors to something more modern other than the all too common white.
However, first, it's important to always:
Check with Your HOA First
First and foremost, when you are considering a new gutter color, you should always check if your neighborhood or HOA (where applicable) has any rules in place.
While it's unlikely that something as trivial as the gutter color would be restricted in such a way, what a shame it would be if you spent money on rejuvenating your gutters only to find that the gutter color you have chosen isn't allowed under your HOA's rules.
The good news is that most HOAs will not dictate what color gutters you can have, but it's always best to check beforehand when you are considering any home improvement works.
Check With Neighbors
What color are your neighbors' gutters?
If they're all identical, then chances are yours are the same, too. But do you want to just blend in with the crowd or stand out a little bit?
Look around your neighborhood to get some gutter color inspiration. Focus on houses that are of a similar style to yours and pay particular attention to the external paint and the color of the gutters. That way, you can see what colors work well together (and what colors don't).
Select the Right Gutter Color to Add Curb Appeal!
One idea is to match the color of your gutters to that of other accenting features of your home, such as your external window frames and front door. Such a conscious design decision can have a real impact when people visit.
If you're looking to play it safe, and your home's trim is thin, most designers will tell you to go for a gutter color that matches your roof. If, on the other hand, you want to make more of a statement, and your home's trim is thick, match your gutter colors to the trim.
At the end of the day, your choice of gutter color all depends on you. So don't just go with the flow, discover what your options are and make a decision based on your own wants.
Just look at this remodel done by Gutter Gurus. The original gutters were white, now they're black (in addition to the siding and garage door changes):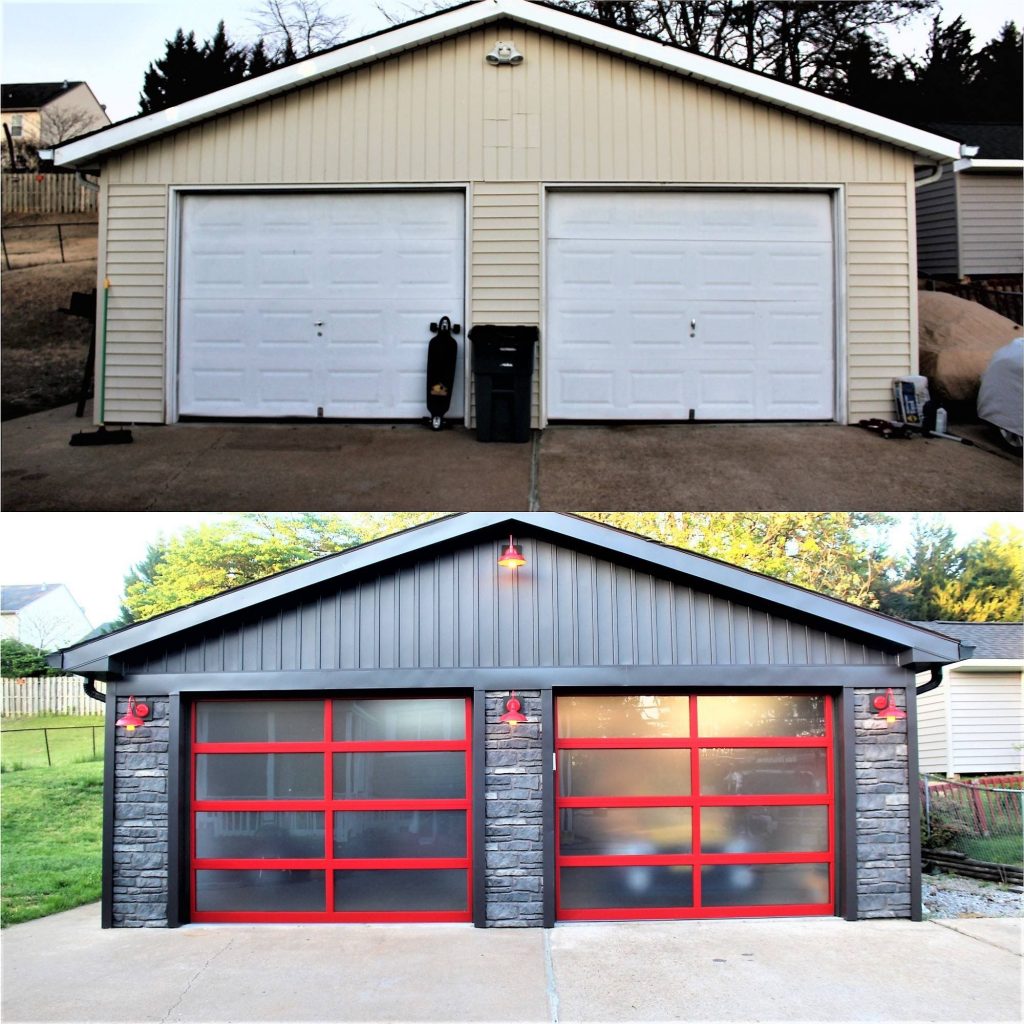 Consider ongoing gutter maintenance needs
While you might be tempted to opt for white or light-colored gutters, consider how they will look when they get dirty. Cleaning dirty gutters is an inevitable part of owning a house, and white gutters tend to show dirt and stains from organic matter a lot more than darker colors. That's why you will probably feel obliged to clean white gutters more frequently.
Obviously, this isn't a huge consideration, as gutter cleaning is common if you don't have gutter guards, but it is something to bear in mind when choosing gutter colors. If you're the type of person who prefers minimum maintenance work and prefers to save on cleaning costs (who doesn't!?), then go for darker gutter colors.
Make a Gutter Color Decision Based on Your Available Budget
White and off-white tend to be the cheapest gutter color options because they are the two standard factory choices. Furthermore, a lot of people choose white or off-white gutters simply because they don't know that they have a choice.

The reality, though, is there are many different gutter colors out there, all designed to suit a wide range of tastes and budgets. In fact, gutter color is one of the easiest ways for you to make your home stand out from the rest in your street.

While the added investment on a non-standard gutter color might seem like an unnecessary expense, consider the extra curb appeal and, in turn, value it could add to your home if you come to sell it.
The good news:
Gutter gurus doesn't charge any extra for CHOOSING a gutter color! It's a flat price for gutters when you shop with us and to help, we provide an instant quote online gutter calculator feature that you can use below:
Use our Gutter Calculator:
You can get an instant gutter quote online for free simply by using our
Gutter Caculator Tool!
Seek Advice From Gutter Professionals
If you're really struggling for inspiration, or simply can't decide what gutter color to go with, why not reach out to a professional gutter company like the Gutter Gurus!
These are people who eat, sleep, and breathe gutters (AKA us), so you can be sure they will be able to provide some helpful input when it comes to choosing a gutter color. 

The gutter professionals you contact will be able to advise you of gutter colors they have made/installed in your local area, as well as explain the various options available to you. It can be exactly what you need when you really don't know what gutter colors to pick.
Why Not Mix 'N' Match!?
Finding it difficult to decide between plain white gutters and something a little more daring?
Why not compromise and choose one color for your gutters and another for your downspouts!? That way, you can play it safe with the gutters, but still benefit from accenting with the contrasting downspouts.

Again, if you contact a professional gutter company, the staff there should be able to fill you in about what gutter colors and downspout colors are available.
Final Thoughts:
Typically, it's best to follow these methods of administering new gutters:
Look at your old gutters. If you're happy with the color and just need new gutters, it's simple to match the color (Usually white or eggshell)
If you decide you want to change your gutter colors, first talk to your HOA. This might not be allowed depending on architecture guidelines
If the HOA allows for gutter color changes, pick a top 3, then narrow it down to 1. Try to match it with say your shutters or front door color. For example, a white house with a black door might look good with black gutters!
We hope this helps you and if you have any questions when it comes to gutters feel free to reach out to the Gutter Gurus of Woodbridge and surrounding areas!