If you happen to live in an area like Northern Virginia where there is often heavy rain – especially in the spring – then you know how important it is to have working seamless gutters.
The combination of warm weather, cool air, and humidity is the perfect recipe for short, but heavy rain, which means your gutters on your home need to perform.
However, if you follow along with the Gutter Gurus of Woodbridge, Virginia – you will know we have you covered when it comes to:
Keeping your gutters in tip-top shape
Protecting your gutters with the best gutter guards
Giving expert advice on the condition of your gutters
But what about gutter drainage solutions?
What is something you can do with your gutter drainage to make use of it or get rid of it to prevent any issues around your home's foundation?
Well, today we look to provide "7 Gutter Drainage" solutions that you can use at your home!
>> To get help with your gutters, be sure to reach out to our top-picked gutter company – Top Dog Home Pro!
7 Gutter Drainage Solutions
1. Use Gutter Guards
Before worrying about gutter drainage, the first thing you might want to make sure of is that your gutters are draining.
As you can see in the video below, when your gutters and gutter downspouts are clogged – there will be zero gutter drainage.
So in order to prevent gutter drainage issues, first consider gutter guards.
Gutter Gurus of Virginia offers the best gutter guard solution – Rain Drop Gutter Guards – which come with a no-clog lifetime warranty! Many gutter guards still require regular maintenance, however not Rain Drop!
In what it costs to clean your gutters 2x per year for three years, you can install gutter guards and never have to worry about gutter drainage issues!
2. Install Corrugated Drainage Pipes
The most common way to divert your gutters runoff water is to install corrugated pipes, commonly referred to as those "Big Black Pipes" you see in people's yards.
However – burying them is the key!
One Gutter Guru customer had a townhome where the neighbor's downspout had a PVC pipe extending the runoff gutter drainage.
With a sloped yard, the neighbor's runoff water would often flood the Gutter Guru customer's entire backyard. The solution?
The neighbor installed a corrugated drainage pipe to redirect the gutter drainage, capped with a rainwater emitter. By installing the pipe, the water was redirected to the center of the neighbor's yard and was now equally watering their grass, instead of it pouring into the customer's backyard.
To install a corrugated drainage pipe simply follow these steps:
Find an attachment that fits your gutter/or PVC pipe that connects to a corrugated pipe
Dig a narrow channel the length of the corrugated pipe
Attach the end cap to the corrugated pipe and lay in the ditch
Set the pipe and attach it to your gutter
Fill in the dirt on top, making sure there is enough surface for the grass to grow back (see photo below)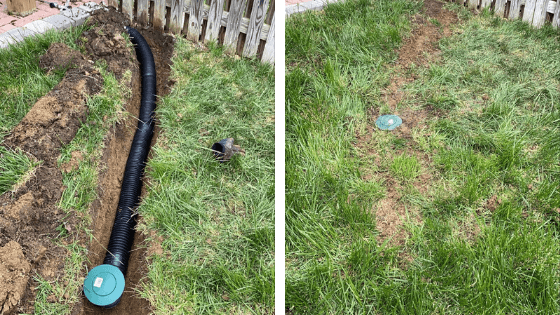 3. Route the Water into a Storm Drain or Dry Well.
A common gutter drainage solution is to divert water to a storm drain in your yard or create what is called a "Dry Well."
This rainwater solution requires more work as most of the time it means using an underground solution with either corrugated pipes or PVC pipes. The pipes either lead to a stormwater drain or a dry well.
A dry well is a giant hole that is dug, then filled with gravel, and remains dry until the pipes that divert downspout rainwater into the well start to fill the well during storms.
Grass grows on top of a dry well and is similar to gutter drainage solution #4 – French Drains!
4. Consider Installing French Drains
French drains are highly efficient erosion solutions that are commonly used for driveways and big digging projects. However, rainwater can also be handled by leveraging a smaller version of the traditional french drain.
A french drain is similar to the perforated pipe solution listed above, however, it also includes fabric on the bottom of the drainage ditch and a pipe surrounded by gravel.
Fabric or weed guard is placed on top of the gravel followed by soil letting water evenly dissipate into the gravel then eventually the ground!
5. Get Some Rain Barrels
Rain barrels are very popular and can be found online or at Rain Drops website here.
Instead of diverting the water, instead the water is collected and the homeowner can then decide what to do with the water! Most barrels have a spot for a hose to connect to a spigot to then be used to water plants or grass!
Rain Drop's Rain Barrel Specs:
Made of UV resistant resin. Will not fade for years.
Authentic appearing hoops
Linkable to other barrels for increased capacity using separately sold linking kit
Resistant to rust, mold, mildew, and rotting
High-quality brass spigot for hose hook-up + overflow spout
Screen to keep out debris, insects, animals, and children
50-gallon capacity
Available in FOUR colors: Oak, Khaki, Terra Cotta, Forest Green
1-year Limited Manufacturer's Warranty
6. Water Your Landscaping with Rainwater
Whether you have splash blocks, rain barrel catches, or you simply divert your downspout with downspout extension kits/catchers – you can use rainwater to help water your plants!
Simply visit a local hardware store or checkout downspout drainage solutions online and see what options you have.
The key is to make sure the gutter drainage is collected and disbursed to evenly water plants and not overwhelm your landscaping!
7. Use Dry Creek Bed Solutions
Ever seen those river rocks or gravel surrounding people's homes, filling in ditches, or outlining landscape beds?
Creating a dry creek bed is a great gutter drainage solution that looks good and is efficient for stormwater. Rainwater shooting out of your downspout without a splash block can quickly evaporate your new mulch every time it rains!
Three and four inch white river rock tends to be the best, as it is both decorative and effective for catching rainwater and preventing erosion. A dry creek bed with river rock prevents mulch and landscape erosion and also holds it looks very well!
Similarly, you can also outline your mulch beds with rock or gravel so when downspouts drain during heavy storms, the water doesn't drag mulch into your yard!
8. Make Sure You Use Splash Blocks!
Always make sure you have splash blocks where your downspouts end.
You can choose to extend your downspout as a gutter drainage solution, but at the very least, always make sure each downspout has an adjacent splash block.
In this photo below, you will see the result of a missing (or mangled) splash block. In a matter of weeks, erosion can quickly occur leading to bigger problems like foundational issues.
Simply stop by Walmart or visit an online store and get enough splash blocks for every gutter downspout at your home.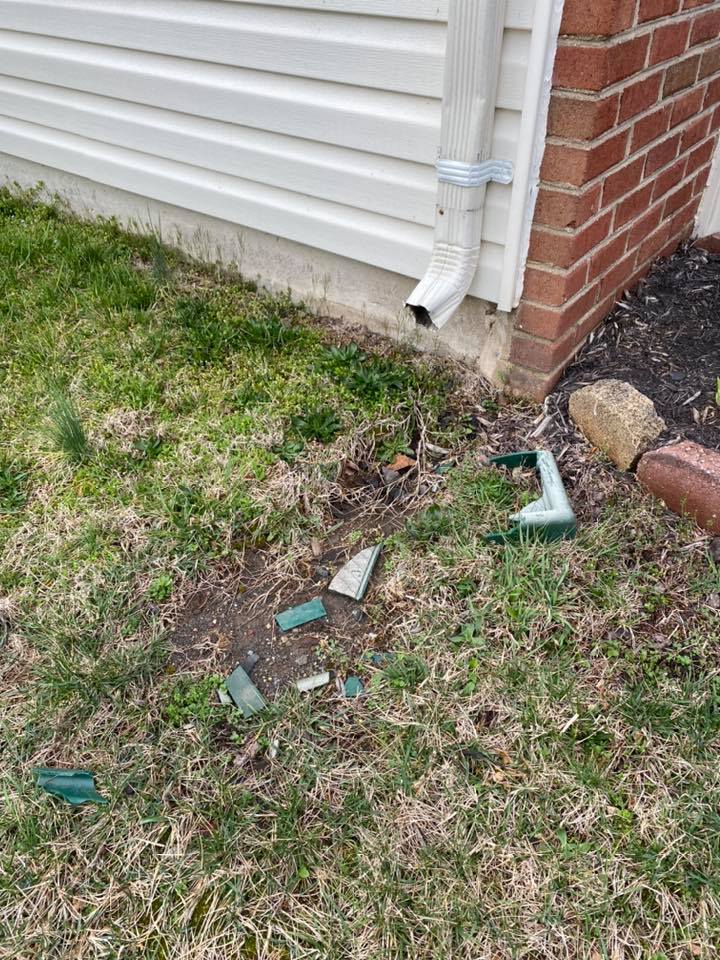 Final Take on Gutter Drainage Solutions:
As you can see, there are some simple ways to fix your gutter drainage – like making sure you have gutter splash blocks and there are more advanced ways like using a french drain or dry well.
Either way, you can make sure your home's exterior is safe with these gutter drainage solutions and if you need help finding tips, don't hesitate to reach out to the Gutter Gurus of Virginia so we can point you in the right direction!
Until next time,
~Leafie

---
Gutter Gurus of Woodbridge, Va proudly serves the Northern Virginia region for all gutter services including gutter installation, gutter guards and gutter repair.