We have all grown up hearing the infamous saying, "April showers bring May flowers."

And truth be told, that has certainly been the case the past few springs (at least in the Northern Virginia area) where it seems like each April our homes and lives are saturated with rain.

Ironically enough, at the time of publishing this new gutter replacement cost estimator article, there is a torrential downpour set to last until the weekend! So if you notice your gutters working improperly or water flying off your home – or maybe you're just looking to update the color of your old gutters – today we will help you with estimating the cost of replacement gutters!

For starters, you can use our gutter replacement cost estimator here to help you figure out your exact gutter replacement costs upfront, use this calculator:

Use our Gutter Cost Calculator:
You can get an instant gutter quote online for free simply by using our
Gutter Caculator Tool!
---
Gutter Installation Cost
What it costs to replace your gutters may vary depending on a few factors such as the material you choose, installation dynamics, and if any other issues present themselves.

In a moment we will explore the average costs of aluminum gutters, seamless gutters, steel gutters, and vinyl gutters, however, below you will find a chart of the average costs for replacing gutters on a single-family home.

Cost to install 150' of gutters & downspouts:
| | |
| --- | --- |
| Low Cost | $800 |
| Mid Level Cost | $975 |
| High-End Cost | $1200 to $4000 |
| National Average: | $990 |
This is a great resource you can use to compare to the quotes you receive for replacing your existing gutters. Speaking of which, tap the button below to get an instant quote with 10% off from the team at Gutter Gurus Woodbridge!

Average Gutter Replacement Cost
The average gutter replacement cost depends on the type of gutter, size and thickness. That being said, there is a high likelihood that your gutters are seamless aluminum gutters. Typically they come in 5-inches or 6-inches and can range from $5-$10 per foot.

So if you have a home that needs 100' of guttering, that would result in a price range of $500 on the low end, $1,000 on the higher end.

It's important to keep in mind these prices can range depending on the material, how much guttering, and other factors some companies might charge like disposal fees or replacing the fascia boards.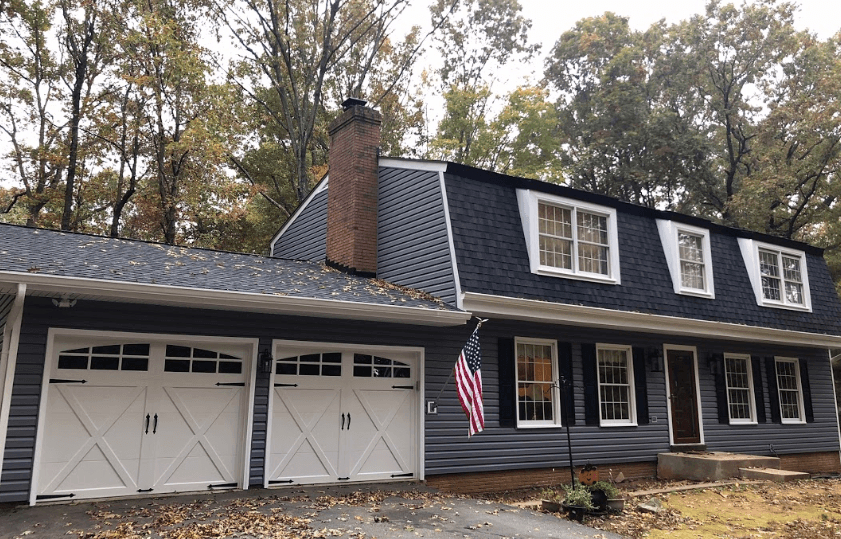 Cost of Aluminum Gutters and Downspouts
With aluminum gutters, expect to pay somewhere between $5 to $10 per foot. This can vary based on color and style, but on average, for 100' feet of gutter with 50' of downspout the gutter replacement cost is:

150' x $5-$10 = $750 – $1500.
Cost of Steel Gutters and Downspouts
Steel is sturdy and heavier than aluminum, therefore you should expect to pay $8–$19 per linear foot. In the case of 100' of guttering you would pay:

100' x $8-$19 = $800 to $1900.
Cost of Vinyl Gutters and Downspouts
Vinyl gutters are less reliable and are typically used by those who want to complete a DIY gutter project. Vinyl gutters come in sections and we highly advise using these on your home (maybe a shed at the most). That being said, for vinyl gutter cost they typically range from $2-$5 per foot.

100' x $2-$5 = $200 – $500

Cost of Copper Gutters and Downspouts
Copper gutters add the most elegant look to a home and they are certainly sturdy, however, they are the most expensive coming in at $25-$40 per foot! For a home with 150 feet of guttering, you're looking at a gutter replacement cost of:

150' x $25-$40 = $3,750 to $6,000

The verdict?
Aluminum seamless gutters are most likely your best bet. Combining the seamless gutters that are custom made and durable, but also affordable, it makes sense why most homes use aluminum gutters.

What about the Cost of Gutter Guards?
The average cost of a gutter guard varies 100% based on the type of guard you choose. When it comes to gutter guards – cheaper isn't always better. In fact, cheaper usually means more headaches and most likely, more problems.

When you think of gutter guard costs, imagine cars for a second. You can buy an older used car, you can buy a brand new fuel-efficient car, and you also have the option of buying the high-end luxury automobile will all the bells and whistles.

For most people (and in this case homeowners) the fuel-efficient new car is your best bet. While the luxury car might be "Nicer," when it comes down to it the efficiency is what you're looking for.

There are cheap gutter guard options that still require cleaning and maintenance, there are highly efficient gutter guard options such as Raindrop that perform well and get the job done, and there are the luxury gutter guards that do the same thing – they just cost a lot more!

At Gutter Gurus of Woodbridge, VA we recommend the high performing Raindrop gutter guard that comes with a lifetime no-clog warranty. To learn more about our gutter guards, you can use our estimator tool here and get a free quote:

Cost of Gutter Guards:
| | | |
| --- | --- | --- |
| Type: | Cost Per Foot: | Our Efficiency Rating |
| Screens | $4-$8 | 2.5/10 |
| Rain Drop | $10-15 | 9.9/10 |
| Gutter Helmet | $20+ | 5/10 |
>> Read about Gutter Gurus Raindrop gutter guards guarantee here!
---
Frequently Asked Gutter Replacement Cost Questions:
Do I need gutters?

Yes, if you have a roof where water runs off during rainstorms, you need gutters to collect the rain and disperse it properly away from the foundation of your home.
Do gutters add value to your home?

Gutters are noticeable when damaged, nor properly working, or falling off your home. New 6-inch seamless gutters with color customization are an upsell and can give your home a facelift.

Do people still use gutter spikes?

No, Gutter Gurus of Virginia installs all gutters with a hidden screw-in hanger that is so strong, you can do a pull-up on it (we just recommend you don't do that). This prevents the gutters from pulling away from the fascia board like a gutter spike.

Why do you have to replace old fascia for new gutters?

Chances are you wouldn't put old tires on new rims for your car, the same goes for gutters. If fascia boards are old, pulling form the house, rotten – they need to be replaced before Gutter Gurus would install new gutters. Fascia board replacement can vary and starts at $15 per foot with sections being replaced in 8' sections.
Until next time,
~Leafie

---
Gutter Gurus of Woodbridge, Va proudly serves the Northern Virginia region for all gutter services including gutter installation, gutter guards and gutter repair.