So you want to learn about seamless gutters?
Every now and then you meet the expert homeowner who has done thorough research and even had personal expierence with exterior home maintenance.

However, truth be told, they are far and few in between. Most homeowners have enough on their plate managing work, family, health, and life to also be residential maintenance/construction experts.

This really hit the team at My Gutter Guru the other day when explaining to a customer how we install our seamless gutters.

After beginning to explain the entire process, from how the gutters are custom-fitted, then manufactured on the spot using a seamless gutter machine, the customer asked:

"So what are seamless gutters anyways?"
At that point we decided to write an article explaining two key points as it pertains to seamless gutters:
What are seamless gutters and how they work
The importance of seamless gutters
What are seamless gutters?
Seamless gutters are exactly what the name states – seamless.

They're one solid piece of aluminum (80% of the time) that stretches the necessary length to collect all runoff water from a home's roof. The solid piece prevents leaks because there are no seams.

Only when two gutters meet forming a corner (typically seen on hip style roofs) can a gutter seam even be found. However, these seams are screwed together then sealed with silicone.

There are two types of commonly seen seamless gutters, K-style and Half-round.

K-Style Seamless Gutters: Most aluminum gutters make use of the k-style design which consists of a flat bak and bottom, forming a 90-degree angle. The front looks similar to crown molding found inside a home forming an ogee. Homeowners can even customize some of the design making it more decorative.

Half-round Seamless Gutters: Take a round pipe, cut it in half. That is what a half-round gutter looks like. Very simple and yet, when installed on larger classical and historical homes they add an elegant feel!

Seamless gutters are custom made on-site to fit the exact measurements, making them a perfect pit (no pun intended).
How does the installation process work?
Watching the installation process of gutters on your home is quite the sight to see. Even more impressive, might be the custom seamless gutter machine used to create custom gutters.
Once a homeowner has selected the color of their gutters, the team at Gutter Gurus double checks all measurements. Then the fun starts!
Section by section, the seamless gutter machine rolls, forms, and spits out custom gutters on-site
Each gutter is then mounted to the fascia of a home (the front-facing board that meets the edge of our roof) using screw-in hidden gutter hangers (no more gutter spikes!)
The custom gutters are sloped appropriately to allow for water to run towards downspouts
Downspouts are installed and directed so water run-off during heavy rains flows away from the home's foundation
Lastly, any place there is a seam (like a corner) is properly sealed
Why seamless gutters?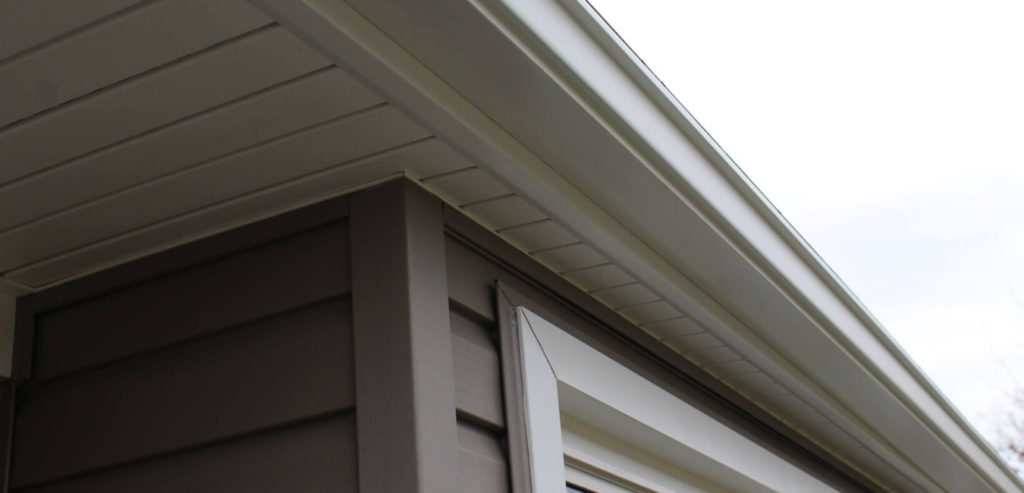 Gutters are nothing new. In fact, ancient history shows us that gutters were first used in the ancient Indus River valley and later made popular in Rome. By the 1700s, American colonies started installing gutters to help collect and disperse rainwater.

The purpose of a home's gutter system is to collect the rainwater from a home's roof, channel water to downspouts and distribute it away from the foundation of a home to prevent erosion and foundational issues.

Seamless gutters are the preferred gutter option (unless a homeowner uses a drip edge or rain chain system) because as mentioned before – they don't leak.

Gutters serve a vital function in protecting a home and the most commonly recommended gutter system is a seamless aluminum gutter. Gravel systems, rain chains, and sectional gutters are not recommended for the average homeowner.
Pros of Seamless Gutters
Most companies recommend seamless gutters for one main reason:

To avoid Leaks.

Seamless gutters are simply less likely to leak compared to sectional counterparts and the only possible leak typically would be found around the downspout or a corner. Not to mention, seamless gutters are also 100% customizable when it comes to size and color, so they're a perfect fit!

With over 15 possible colors, another pro to seamless gutters is the control a customer has in finding the best color match for their home.
Not to mention, custom seamless gutters are custom fit for each home and meant to last. Fifteen years ago, gutters were still installed with gutter spikes, therefore the shelf life was much shorter.
Sectional gutter lovers claimed sectional gutters were effective for repairs and fixes, the "Entire section" didn't have to be replaced.
However, with k-style gutter hangers, homeowners don't have to worry about gutters pulling away from the house like traditional gutter spikes!
Ok, so what can go wrong (cons) with seamless gutters?
The only issue homeowners can possibly run into with seamless gutters is when a gutter is faulty, which is typically the result of one or a combination of the following:

Gutters are improperly installed (for example, gutter hangers are not used or mounted to the fascia correctly)
You gutters become damaged by wind, a tree branch knocks, or ice
Other natural causes or mother nature
Whatever the case may be, the entire seamless gutter must be replaced.

There is a case by case scenario where a repair could be possible, but typically the entire section must be replaced. So while there might only be a few feet of damage, if the seamless gutter is 20 feet in length – that entire strip would need to be replaced.

Additionally, one con behind seamless gutters isn't the gutters – it's the DIY crew.

Unfrouatnely, seamless gutters are not ideal for the do it yourself, homeowner!

Luckily, seamless gutters are very sturdy and even if they do need to be replaced, they're very inexpensive. This leads to the last question we often get:
How much should seamless gutters costs?
There are many factors that go into pricing seamless gutters including:

Location of home (for example Manassas or Woodbridge vs a rural location)
Size of gutter: 5inch or 6inch
Existing gutter removal (some may charge)
Fascia board replacement per foot
Type of gutter material (aluminum vs copper)
Extras such as gutter guards
Traditionally, aluminum seamless gutters are priced per linear foot and can range from:
Rough ballpark estimation is $1,000 for a home with 100 linear feet of guttering. However, with the Gutter Guru custom quote tool below, you can get an instant quote and know exactly what you should be paying:

In fact, those who use the custom quote system receive an additional 10% off!

Final Word
At the end of the day, your gutters should last a really long time if they are seamless and installed with hidden hinge screw-in hangers. In the event, your gutters are older and they're still rocking gutter spikes, there is a high likelihood they will loosen over time with weathering.
The spikes (essentially large nails) would pull away from the fascia over time with debris buld-up in gutters that are not properly maintained. Heavy rains weighed the gutters down.
However, that is no longer the issue with seamless gutters. And with properly installed gutters from Gutter Gurus of Woodbridge, VA – it's a no brainer as to why you should always have seamless gutters!
---