The origin of gutters dates back to the Indus River Valley civilization.
Inventors of what we now know as modern-day plumbing, the Indus River Valley inhabitants were some of the first to organize a system of grid-like plumbing, which included channeling runoff water.
Modern-day gutters as we know them were brought to rainy England by the Romans around year zero, to help divert water from roofs.
So in theory, gutters keeping your home healthy since 1999 isn't relevant, it's more like since 5,000+years ago! Here is how gutters help!
What do gutters do?
Responsible for diverting water from your roof and away from your home, gutters are your first line of defense against water damage to your property.
Gutters tend not to be at the front of the mind when it comes to caring for your home, but if left forgotten, broken or clogged – gutters can cause multiple issues.
Some of these issues vary, which is why it's important to know the following when it comes to your home gutters:
What to look for
What services are available
Let's start with potential gutter problems & issues!
Common Gutter Problems:
Below you will find a quick list of common home issues caused by a compromised gutter system (if you already know you have a problem with your gutters, reach out here to see how we can help you).
Foundational Problems from Gutters
A gutter's main role – to channel water away from your home – is compromised if there's a blockage in that system.
Just like when you plug the tub, the water has to eventually go somewhere else – and when it comes to your gutters it's usually over the edges of the gutter.
Overflowing gutters can cause water to pool around the foundation of your home, ultimately creating an environment conducive to mold. Even worse, should the water freeze, it could cause cracks in the foundation, threatening a potential collapse if left unnoticed or untreated.
Siding Damage from Rain
Overflowing water, undoubtedly the biggest concern with unkempt gutters, can trickle down your siding before pooling by the foundation, causing wood damage and a great risk of ice dams in the wintertime.
Landscaping Sabotage
If you have any flower beds lining the side of your home, gutter blockages can lead to over-watering and erosion, ultimately diminishing the curb appeal of your home.
Landscaping is something that must be maintained and clogged waters can rush your gutter system, thus causing erosion.
Mosquitos & Pests:
If a blockage causes standing water in your gutters, you can expect mosquitos and other insects to be attracted to the site.
Even if your gutters do not have a blockage, a nice bed of leaves built up in your gutters looks awfully inviting for small, unwanted pests. Mosquitos in particular, love damp and moist climates – ideal breeding grounds.
It's why you should always make sure you should never have standing water around your home – including in your gutters!
Your Gutters Health
When gutters are blocked, your foundation isn't the only thing that can suffer from water damage…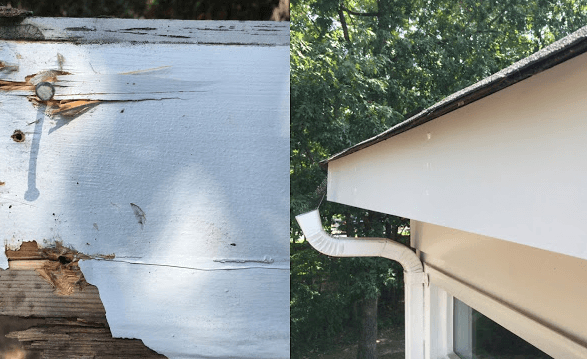 Water overflow can affect the components that make up the gutter itself. The fascia – the board that runs behind your gutter – can weaken. Even if they are draining properly, gutters left uncleaned can hold excess debris, increasing the weight of the gutter and causing strain on the brackets.
So knowing some of the issues inefficient gutters might present, what are your options?
Clean Your Gutters
One option to prevent the gutter problems listed above is to regularly (at least 1x per year) have your gutters cleaned.
Keep in mind this task is not always easy, especially considering you need a ladder and some background knowledge.
It is best to practice safety first!
While cleaning gutters seems straightforward, many people don't have the proper equipment, expertise, or time to commit to gutter maintenance. It's best to leave it to the professionals to ensure your gutters get the best maintenance and preventative care.
The other option? Install gutter guards that require no maintenance like Raindrop Guter Guards!
Install Gutter Guards
If cleaning out your gutters regularly sounds overwhelming, you can easily reduce the amount of maintenance by installing gutter guards as a preventative measure against debris buildup and blockage. Gutter guards protect your gutters and your home by keeping your gutters free of leaves and sticks – and they are very low-maintenance!
Not all gutter guards are created equal. Look for guards that can withstand heavy storms, hot climates, and cold winters with ease, such as the Raindrop® Gutter Guard.
At Gutter Gurus of Woodbridge, Va we install Raindrop Gutter Guards for this reason: We can guarantee a 100% no-clog warranty and that you will not need to clean them.
To get an instant guard quote, use this free calculator tool here:
Use our Gutter Calculator:
You can get an instant gutter quote online for free simply by using our
Gutter Caculator Tool!
Explore Gutter Services
There are a variety of gutter services to explore. At Gutter Gurus, we offer the following gutter services for homeowners:
You might not know what you need, which is why we encourage simply reaching out and seeing how we can help guide you! Sometimes you might just need to take out a stick from your downspout!
Final Word:
While it's not the first thing on your mind as a homeowner, it's clear that gutters are very important. Keeping water, pests, and worry away starts with maintaining your gutters regularly.
Keep in mind your home is your number one asset, so it's always wise to invest in quality installation and maintenance, and consider gutter guards, which can help prevent future problems.
Just remember, fall is always a few months away and it's never to early to schedule your next gutter maintenance inspection so you can help prevent future damages to your home!
Until next time,
~Leafie

---
Gutter Gurus of Woodbridge, Va proudly serves the Northern Virginia region for all gutter services including gutter installation, gutter guards and gutter repair.