Your home's gutters, do you know what they're really for?
While they might sometimes seem insignificant, your gutters are actually an integral element of stormwater management –
Every time it rains, your home's roof channels water down to your gutter system where it is displaced around your home. Essentially, your home's gutters are responsible for diverting rainwater and other precipitation off your roof and away from the foundation of your home!
When gutters function properly they should:
Keep rainwater accumulation away from your foundation
Prevent rainwater from flowing down exterior walls and penetrating the interior of your home
But when gutters don't… well that is when you might need some gutter help!
Gutter help is on the way!
Gutter Gurus is the leading source of 5" and 6" Seamless Aluminum Gutters in Northern Virginia. Specifically, we offer gutter help in Woodbridge, Lakeridge, Dumfries, Manassas, Springfield, and Stafford!
But you might be asking, what does gutter help even look like and how do I know if I even need it?
Our gutter services include:
From our new gutter installation services to gutter guards, we got all the gutter to help you need in one place! See below:
New Gutter Installation:
Healthy gutters protect your home.
The team at Gutter Gurus Woodbridge installs seamless gutters that fit perfectly into your home's composition. By choosing Gutter Gurus, rest assured that your new gutter installation will be an excellent investment in your home, resulting in increased protection and increasing your home's value long term.
We offer seamless gutters that are custom fit on-site for your home. To get an instant estimate you can use our gutter estimator tool here.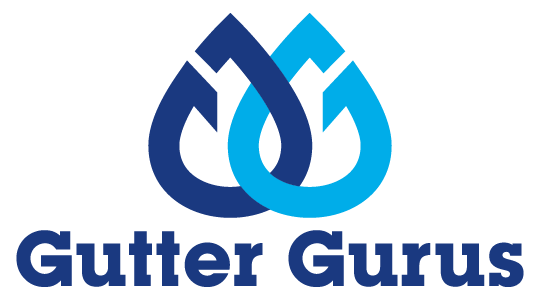 Want to customize your gutters and get the exact price right now?
Step 1: Measure your gutters, you can use the measuring tool on Google by simply right-clicking and hitting "Measure distance"
Step 2: Select a size, 5 inches or 6-inch seamless gutters, we recommend six inches because of heavy rains in Northern Virginia
Step 3: Input your measurements with our DIY Quote here.
Step 4: Select one of 16 possible colors (Be sure to check with your HOA if you plan on changing your color)
Step 5: Let us do the turnaround work in a matter of DAYS!
Gutter Repairs:
Typically, most gutter repairs end up turning into a gutter replacement.
If you don't keep your gutters clean with a pressure washing company, you will have to get gutter guards or replace your gutters.
Replacing your existing gutters (see more below) is a simple process. However, there are cases where gutter repairs might make sense, and in that case, Gutter Gurus is the go-to gutter help provider!
If you are unsure of what your gutters might need, it's a good idea to have an expert come and take a look. Should your gutter need to be fixed, we ensure repairs will be efficient – or we will help you find the right service provider for your needs.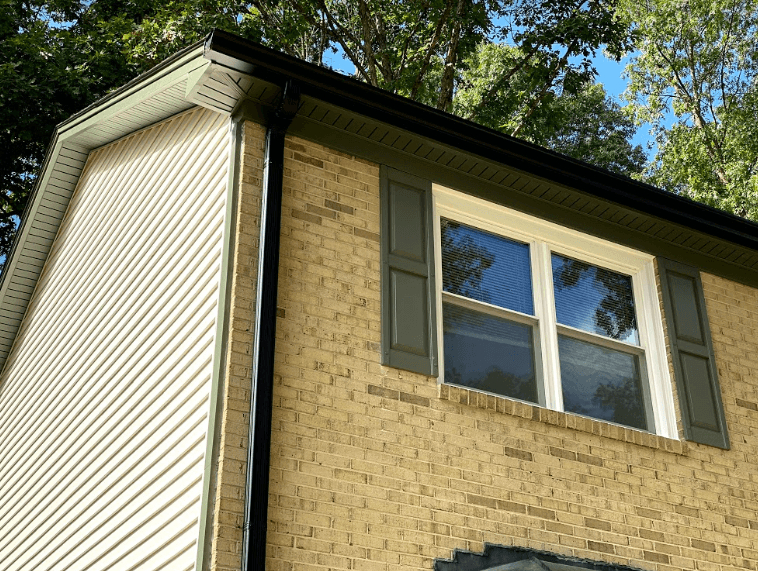 Typical gutter repairs can include:
Caulking or sealing, tightening existing gutter, testing gutter slope, testing drainage, an inspection of the roof, and more.
Gutter problems arise and each home has different needs.
Gutter Replacement:
An old, damaged, or falling-down gutter is pretty evident. Gutter maintenance is vital.
Not to mention, when it rains and water goes flying off your roof it typically means one of two things:
You need to replace your gutters
You need to clean your gutters
We will replace your existing gutters with new, modern seamless gutters that provide the superior protection your home deserves. Gutters that don't function properly can lead to many issues including:
Foundational issues
Leaks
Stagnant water around the home
Obvious signs of exterior home distress
Most gutter issues aside from tree branches, ice, and wind actually occur because of something most people simply can't get to regularly:
Gutter maintenance.
This is why we offer the best gutter guards that are maintenance-free and worth every penny!
Gutter Guards:
Does a maintenance-free gutter guard with no cleaning and a 10-year warranty sound too good to be true?
Typically, the answer for most gutter companies, the answer is probably YES, way too good to be true.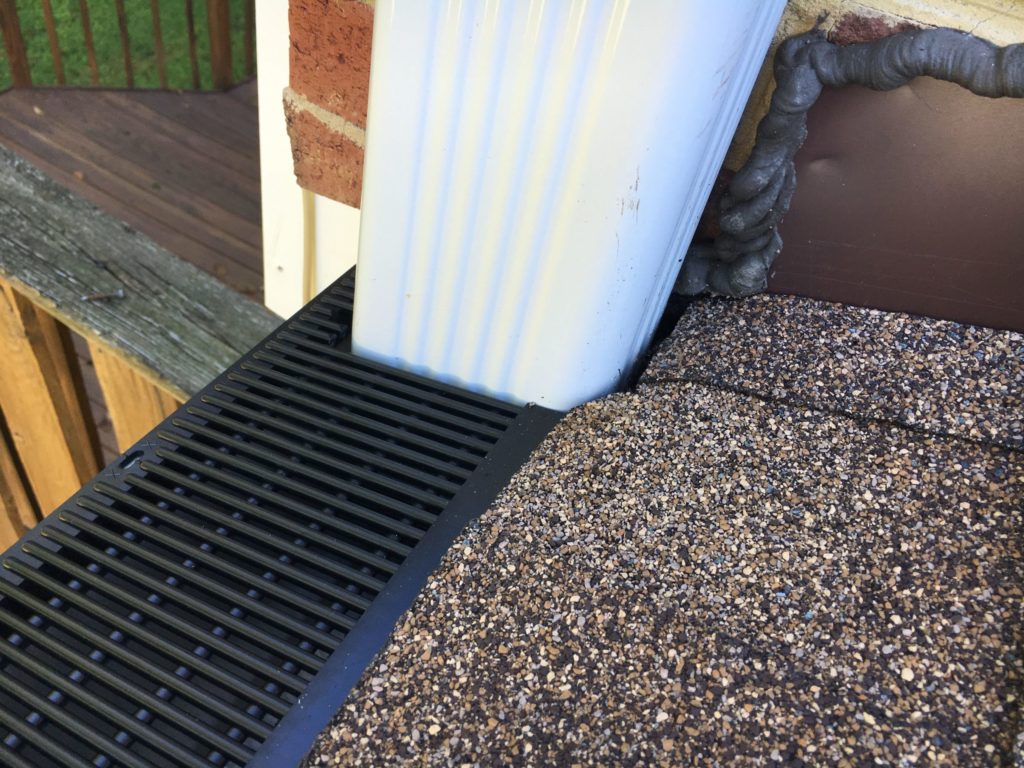 We've teamed up with Raindrop® to deliver gutter protection like no other. The Raindrop® gutter guard fits on every home, roof style, and gutter system and is essential in providing a maintenance-free & self-cleaning gutter protection system.
We also offer a limited
Keeping gutters clean and free of leaves, sticks or other debris is an excellent low-maintenance method to protect your home and gutter system.
What makes Raindrop® Gutter Guard stand out from the rest is the system's capacity to handle any amount of water – from a spring mist to a torrential downpour. Made from a special blend of polypropylene and UV stabilizers, these guards can withstand the harshest storms, hottest climates and coldest seasons with ease. In addition, they are virtually invisible and the black color can help to absorb heat from the sun to control ice in the winter season.
Note: Do the gutter cleaning math. If you pay $300 per year to clean your gutters, in four years would cover the cost of 100 feet of Raindrop gutter guard from Gutter Gurus. And with a 10-year warranty, you would get six free years!
Why your gutters matter!
On a final note, your gutters matter. Just like when you go to the doctors for a check-up, most of the time the news is good.
However, on those rare occasions when something is brought up, you have to take action to reverse whatever the medical diagnosis may be. The same can be said for your gutters.
Chances are your gutters are in good standing. However, in the case you need gutter help, be sure to reach out or at least inquire for our expert opinion.
Get an instant gutter quote:
We're the leading source of 5" and 6" gutters in Northern Virginia, delivering unparalleled quality and performance for each and every installation. Quality made certainly, satisfaction guaranteed – that's our promise to you.
For 10% off your gutters right now, use our online estimator to get a quote.
Have a question? Don't hesitate to contact us!