If you stepped outside recently, you probably have noticed the change in the Northern, Virginia temperature. It is getting much warmer and you probably are thinking of getting out and about.
Perhaps you want to exercise outside, do some spring cleaning, or hit the honey-do list which includes inspecting and cleaning your gutters!
Let's say you decide to clean your gutters and climb up on a ladder, and it's not a pretty sight. You have a sinking feeling coming straight from your wallet when you realize your gutters are in terrible condition!
While some people would love to save an extra buck by turning gutters into a DIY project, we encourage them to think again! The best approach you can take is in fact hiring a pro, and today we are going to tell you why that's a solid idea!
Other articles you might find helpful:
Gutter Installation 101
Gutter installation is not as simple as it may look and can be highly variable depending on your current situation. Larger properties, sophisticated architecture, and older structures are going to require more dedication to effectively install gutters.
There are several types of gutters, traditional ones (Sectional – with seams that can easily leak) and seamless gutters. Most choose to go with aluminum gutters but there are also:
Copper
These materials are strong, durable, resistant to rust, which makes it capable of lasting for many years. It is fairly lightweight compared to other materials, which makes installation moderate/medium in terms of difficulty. Cost: Highest
Steel
Steel is one of the most desirable types of material for traditional gutters for its strength and resistance to the powerful strain of the elements like heavy rain, snow, and so forth. However, Steel and moisture are not exactly compatible, which makes it prone to rust, and installing it on your house can be hard work, because of its heavyweight. Cost: Second Highest
Vinyl
Vinyl is one of the easiest materials to install for gutters and have some great perks in their resistance to rust, cost-effectiveness, simplicity in installation, and lack of any fine-tuning of the aesthetic appeal since it can be offered in a multitude of colors.
However, unlike steel and copper, they aren't as durable and can be vulnerable to the elements. Heavy rain and snow can crack, dislodge, and damage vinyl gutters. Cost: Cheapest
Seamless Aluminum, on the other hand…
Seamless gutters are often made up of the same material that regular gutters are made up of, such as steel, aluminum, copper, zinc, and so on. However, they are not broken up in sections like the traditional ones. Instead, they are merely joined and sealed together by joints/miters at vertices around the roof. 
Consequently, this makes installation complicated for a DIY job! However, seamless has more upsides than the rest!
Why you should hire someone to install gutters:
Installing gutters require ample background knowledge behind effectively measuring, cutting material (& understanding of the material), and the methods to install it. It also requires the safety risk of using a ladder to elevate yourself multiple feet off the ground. 
Making a mistake, and it will cost you if you do, even for the most ardent DIY people, is not worth the risk! If you hire a professional, they have the expertise in assessing your situation and effectively installing gutters for you. Pay now or pay later, your choice! 
Seamless gutters are the best gutters!
Seamless gutters are by far the most superior gutters to get when looking to get new gutters installed for three reasons:
Exact Installation:
Seamless gutters are cut and measured with precision to meet the exact length of your house onsite by professionals. Just like a new roof replacement, you want to make sure your gutters are custom for your home!
Easy Maintenance and Excellent Durability
Although seamless gutters require more effort to install, the maintenance is simple as the joints in the vertices around the roof of the house are the only areas to check in on. Less to repair holistically.
Help Prevent Leakages
Seamless gutters, contrary to regular gutters, are designed in a specific way to reduce the likelihood of leakages, albeit not 100% leakproof, very rarely do seamless gutters leak. If they do, it is usually at the end, and it is a quick fix.  
In fact, we are so confident that our seamless gutters work we offer lifetime product/labor warranties for properly maintained gutters! Similar to how reputable water heater companies can guarantee their products – we can do the same with our gutters!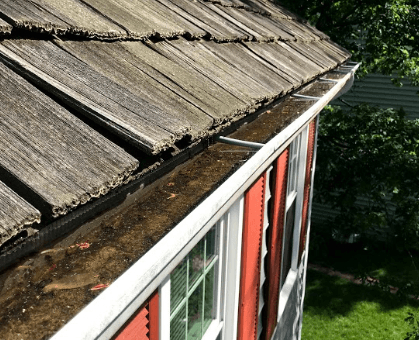 How to install gutters yourself (if you insist):
Installing gutters highly depends on the type of gutters that you plan to get, but regardless of the type, here's a quick list of things to keep in mind when in the process of getting your gutters installed. 
Make a plan.
Count and measure exterior (providing a margin of error) walls that need gutter replacement. You can use Google Maps to get a rough estimate, but if you insist on doing it yourself – you will need EXACT measurements.
Create a budget.
Think about how much you are going to spend roughly; however, keep in mind prices will vary. Easier to install materials like aluminum and vinyl will be roughly $5-$9 per linear foot. Here is the crazy part… you could also have the same gutters installed (seamless, mind you), for $5.50 or $6.50 per foot. Simply use this calculator here to find out your gutter costs.
Gather Supplies.
According to Paramount Exteriors, here are the necessary supplies to get:
Step or extension ladder, depending on the height of your roof
Work gloves
Safety goggles
Power drill and two or more rechargeable battery packs
Permanent markers with a fine tip
25-foot tape measure
Wood screws
Gutter brackets
Construction glue and gutter sealant
Caulking gun (for the glue and sealant)
Tin Snips (for cutting gutter pieces)
Note: It is recommended to get an extra pair of hands to help with positioning as you install the gutters. Install with a friend or a family member for best results.
Inspect Roof's Foundation Near the Gutter
Check to see if the foundation around your gutter appears in good cosmetic shape. Take into account chips, cracks, and wear due to age. Replace if necessary.
Direct Drainage
Install with a slight angle tucked away in a corner to ensure proper drainage into the yard, away from the house! There are countless drainage solutions to consider when you direct your gutter drainage!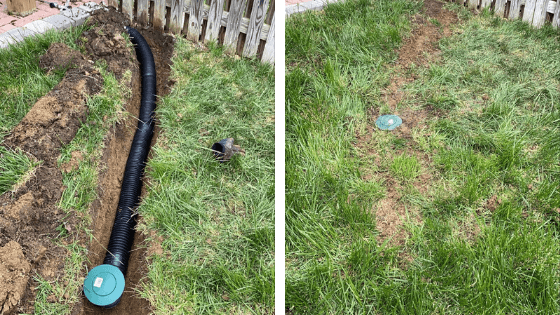 Measure and Cut material (or position) with Precision and Accuracy!
Measuring your exterior walls to ensure the accuracy of needed material for gutters, doing it more than once is a rule of thumb! Afterward, make the cuts or interlock vertices of seams considering correct positioning. Do until the gutters are installed in total. 
The Verdict!
I know there is a desire to control the process of installing your gutters, and you may even be a die-hard DIY fan, but at the end of the day, it's all about what you are willing to risk and how long-term you think.
Some things you can do yourself, but gutters are not one of them. Gutters offer so much vital protection for your home as it pertains to keeping it dry and preventing leaks.
Always hire a professional gutter installation company when you're considering new rain gutters. We get it if you're worried about hiring a contractor, that is why we recommend these two articles to help you: