What should you look for when it comes to hiring a gutter company? Do you live in Woodbridge, VA, and need a gutter company ASAP to help you?

When you are looking for a gutter company, affordability, and quality work should be your top priority. Or perhaps, you prefer easy scheduling and color options. Regardless, when it comes to finding the best Woodbridge Gutter Company, there are factors you must always consider.
Most homeowners start with price, then pick a gutter company based on availability or quality work, typically sacrificing one of the three. However, who said you can't have all three?
Gutter Gurus of Woodbridge, VA is the premiere gutter company when it comes to affordability, quick install availability, an online quoting system, and high-quality work. But don't take our word for it; see below for yourself as we aim to cover the characteristics of the ideal gutter company!

*Please note this website is run by Top Dog Home Pro of Virginia who runs all installation projects through Gutter Gurus.
In this article you will learn:
What to look for when it comes to selecting a gutter company to repair your gutters, replace your existing gutters, install new seamless gutters, replace or install gutter guards and how to go about gutter maintenance! For an instant gutter quote, use our Gutter Calculator Tool!

Ranking the Best Woodbridge Gutter Companies:
1. Top Dog Home Pro
The reviews speak for themselves. Sure, Top Dog Home Pro is the owner of this website, but we also have carved out a great reputation as the leader of gutter services, gutter guards, and new gutters in all of Northern, Virginia!
From Fairfax to Woodbridge, we have the best there is to offer in pricing and quality. Hence why we have this entire EXTRA website for gutter clients to learn about!
2) Powell and Son's, LLC
Although based in Fairfax, Powell and Son's services Woodbridge and the greater Northern Virginia area with gutter cleaning, repair, and installation services that are high quality and aimed toward fulfilling the needs of the client at hand. They offer a no-obligation estimate and a free quote to help give you a plan accordingly.
The Characteristics of the Best Woodbridge Gutter Company!
It all started over 15 years ago, but working for a family-owned exterior remodeling company serving the greater Prince William County area taught me a thing or two.

From always promising high-quality work (and making it happen) to clearly educating clients and avoiding all the common contractor pitfalls such as failure to communicate, I decided to take those lessons along with me when I started Gutter Gurus.

Along the journey, from college to running the family business to managing a corporate exterior install division, when I decided to start Top Dog Home Pro in 2018 I had big plans in mind, all centered around making it the best gutter company in the area! Gutter Gurus is our web content and homeowner information brand that provides valuable gutter resources for customers!

First, the Top Dog Home Pro promise is to target the items homeowners want the most in an exterior gutter company:
Price
Quality Work & Customization
Hassle-free scheduling & quoting
Let's look at how the Top Dog Home Pro tackle each in providing the best gutter services in Woodbridge and Prince William County!

1. Gutter Price & Costs
Unfortunately, some gutter companies are not very honest when it comes to pricing and will base their price on factors that aren't fair. However, when it comes to Gutter Gurus, we make the entire process simple and tailored to the homeowner.

For one, we offer a FREE Gutter Calculator tool that anyone can use, even if they aren't ready to have their seamless gutters replaced. This tool can even be used to compare pricing if you want (remember, our goal is to simplify the process for homeowners).

Gutter Gurus is one of the only gutter companies in the Woodbridge area that offers such an excellent feature. The process is so streamlined and efficient it even allows us to give all clients 10% off who use the gutter pricing tool.

Additionally, we consistently publish relevant gutter information to inform homeowners, including this Gutter Pricing Article here that goes over average gutter prices across the nation.

Since we know our gutter pricing system is top-notch, our next goal is to always follow up on our affordability with amazing, quality work!

2. Gutter Quality Craftsmanship & Customization
When it comes to seamless gutters, customization and quality install are vital for making your home look great and making sure your home has long-lasting gutters.

For starters, as the leading gutter company in Woodbridge, Manassas, and the surrounding areas, we always ensure that what we recommend is the best for the homeowner – not the Gutter Gurus!

This means if a gutter needs a simple repair, we won't recommend brand-new gutters. However, on the contrary, if repairing a gutter means it will only last a few months, we will always do the right thing and recommend new customized seamless gutters.

In addition to customizing the size of your home's gutters (5-inch and 6-inch), homeowners who use Gutter Gurus can also customize their color (make sure your HOA approves).
Additionally, high-quality work means:

Measuring fascia boards, gutter area, and new gutters
Inspecting all existing gutters, fascia boards, and areas around the foundation
Taking time to install gutters at the right slope for rainwater runoff
Using hidden hinge screw-in gutter hangers (no more gutter spikes)
Cleaning up and metal detecting for debris that may have fallen in the yard
3. Hassle-Free Gutter Pricing Online & Scheduling!
What do homeowners hate the most? High-pressure sales techniques and endless follow-up calls. A reputation that, unfortunately, too many gutter companies and exterior remodeling companies have.

So how did the Gutter Gurus of Woodbridge, Va make sure this doesn't happen for our clients?

We created a stress-free, hassle-free, avoid-the-high-pressure sales technique gutter quoting system that is all online! Simply use this gutter calculator below, and you will have a price in a few mouse clicks!

All you need to have is:

Measurements for downspouts
Measurements for your gutters
Do you want gutter guards (read on as we explain why we always recommend gutter guards)
To measure your gutters, use this article or Google Maps measuring tool!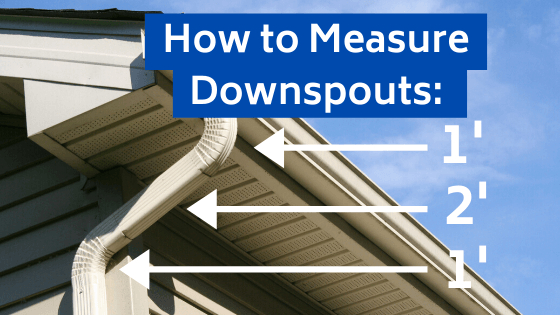 As long as you measure correctly, there are absolutely zero additional charges or hidden fees. We take the hassle out of getting new gutters and the only thing we need to call or email about is scheduling.

Hassle-Free Scheduling:
Without easy to use online gutter quoting system, the scheduling and installation of new seamless gutters is just as seamless (no pun intended).

Our reviews speak for themselves, but as mentioned earlier – we love blowing the minds of our clients by exceeding expectations. This means guaranteeing our install date (aside from rain delays) and typically completing the work prior to our self-imposed deadline.
While we can't guarantee it will be as fast as Amazon Prime, we have been known to install gutters from signed deal to new gutters in under 24 hours! (Note, this is not a guarantee, but we do operate on strict time guidelines to always be efficient and mindful of homeowner time).

Use our Gutter Calculator:
You can get an instant gutter quote online for free simply by using our
Gutter Caculator Tool!
By now you clearly understand what to look for in finding the best gutter company, and in this case, we like to vote Gutter Gurus as the best Woodbridge Gutter Company! That being said, what services do we offer as a gutter company?

Gutter Gurus – What Gutter Services are Available?
To help you with finding a gutter company near me, (that is probably what you searched, right?) you also want to know what type of services are available and what is best for you.

In this section of our comprehensive gutter company article, we shar what services are available when it comes to gutters for your home or property!
Gutter Installation
Gutter Gurus of Woodbridge and Prince William County is the leader in installing seamless gutters.

Whether replacing the existing gutters or installing brand-new seamless gutters, we lead the area with our hassle-free quoting, scheduling, and workmanship! 

Gutter Gurus offers custom seamless gutters that are formed and installed custom-fit for your home on-site! Homeowners can choose from 16 colors and our process is highly streamlined and efficient:

Section by section, the seamless gutter machine rolls, forms, and spits out custom gutters on-site
Each gutter is then mounted to the fascia of a home (the front-facing board that meets the edge of our roof) using screw-in hidden gutter hangers (no more gutter spikes!)
The custom gutters are sloped appropriately to allow for water to run toward downspouts
Downspouts are installed and directed so water run-off during heavy rains flows away from the home's foundation
Lastly, any place there is a seam (like a corner) is properly sealed
Replacing Gutter Sections:
Just like our seamless gutter installation process, if replacing a small section of gutters or all the existing channels, we always first inspect fascia boards to make sure the new gutters are not going on old boards!

The last thing we want to do is place new gutters on old fascia boards! However, when we replace gutters, we go with K-style gutters because of the ability to use screw-in hangers.

That way, homeowners don't have to worry about gutters pulling away from the house like traditional gutter spikes that were used back in the day! 

Gutter Repairs
In some cases, your home's gutters may require a gutter repair. This can happen with downspouts becoming dismounted from their brackets, gutters appearing to be falling off the fascia boards, or gutters are missing altogether due to a windstorm or tree branch.

Oftentimes, there are one of two options:

Simple fix: Gutter repair is simple and can be done in a matter of moments that same day
Not so simple: Most often, if a gutter is missing, damaged, or falling off a home – it's not something that happened overnight; it has been a long time coming. 
Gutter Gurus of Woodbridge is always honest about repairing gutters and we stand firm on our gutter repair policy. Our policy is straightforward:

If fixing the gutter means the gutter will perform and last the expected life expectancy, we will fix it. However, if the gutter repair is a short-term fix and the homeowner will most likely be experiencing the same problem sooner than later, we recommend adding a new section of seamless gutters. 

Additionally, if we find the gutters are falling off because they use old-school gutter spikes, the fascia board attached to his rotting, or if they're on their last leg – we will always be sure to bring these issues to the homeowner's attention! 
Gutter Guards
Gutter guards aren't just for protecting your gutters from leaves; high-performing gutter guards are designed to increase the life of your gutters by preventing wear and tear.

While yes, gutter guards are typically used for preventing leaves from clogging your gutters; they're also used to:

Decrease the chance of ice blocks catching gutter edges
Sticks entering and ripping off gutters
Leaves building up in your gutters
Help with melting ice and snow (Raindrop gutter guards heat up from sun)
In most cases, the cost of gutter guards pays for itself in 3-4 years of paying someone to clean your gutters. And while there are certainly plenty of "cheap" options when it comes to gutter screens, gutter filters, and gutter guards – when it comes to gutter guards – you get what you pay for. 

As the premier gutter company in Prince William County, Gutter Gurus only recommends the best gutter guards, Raindrop Gutter Guards.
Raindrop Gutter Guards
Why do we only install Raindrop gutter guards?

For one, when the Gutter Gurus install Raindrop, we can guarantee your gutters won't clog. In fact, we offer a no-clog warranty because we are so sure of it. If they do clog, we will come to clean them ourselves, free of charge (but it won't happen). How are we so sure of this?

Flexible: Raindrop® is the most versatile gutter guard available. Works on every roof style and fits both 5″ and 6″ gutters. It can be modified to fit 4″ to 10″ gutters. The "Flex-Flange" makes Raindrop® highly adaptable to work for every situation.
Handles All Water: The Raindrop® Gutter Guard can handle any amount of water from the worst downpour.
Strong & Durable: Raindrop® is made from its own unique blend of polypropylene. This special blend of polypropylene and UV stabilizers can and will withstand the harshest storms, hottest climates, and coldest seasons imaginable.
Raindrop® Gutter Guards heat up from the sun during the cold months, naturally melting snow and ice to keep water flowing into the gutters year-round.
Raindrop gutter guards perform better than all other gutter guards because unlike some of their flat-mount and gutter helmet competition, Raindrop protects AND lets the gutters do their jobs. Not to mention – you don't have to clean Raindrop gutter guards!
What about gutter maintenance & gutter cleaning?
Chances are, you have picked up on the fact that we are very transparent and forthright when it comes to educating homeowners about their gutters. Knowing that, here is where we stand with gutter maintenance and gutter cleaning:

If you do not have our gutter guards (Raindrop Gutter Guards) you need to inspect your gutters at least 1x per year, ideally twice
If you don't have guards or if you have screens/mesh guards, clean your gutters 1-2x per year
Gutter maintenance is essential for prolonging the life of your gutters. In fact, without proper care and regular gutter cleaning, you can decrease the life expectancy of your gutters. In the photos below, you will see a home that was just recently built in 2019 and already had significant leaf build up in just this small section.

Cleaning your gutters (or having someone do it for you) at least one time per year is a must. However, we know this can be a pain, so we recommend Raindrop gutter guards. With Raindrop gutter guards installed by Gutter Gurus of Woodbridge, we can guarantee a lifetime no-clog warranty – or we will clean them for free.

Like we tell all of our homeowners, you can pay someone to clean your gutters 1-2x per year, or in you can have us install gutter guards that work, and you'll start saving after year three (Gutter guard price – the annual cost of gutter cleaning = 3 years to make up the difference).

However, if you like having open gutters and don't want guards, you can choose to have them cleaned or clean them yourself. Just make sure it happens regularly!
How to clean your gutters:
Get gloves, a bucket, and a ladder
Make sure your ladder is secure (have a partner hold your ladder for you)
Using a glove, clean out your gutters and place the leaves and debris in a bucket
Move from section to section
Hose down your gutters to get any leftover debris and make sure downspouts are not clogged!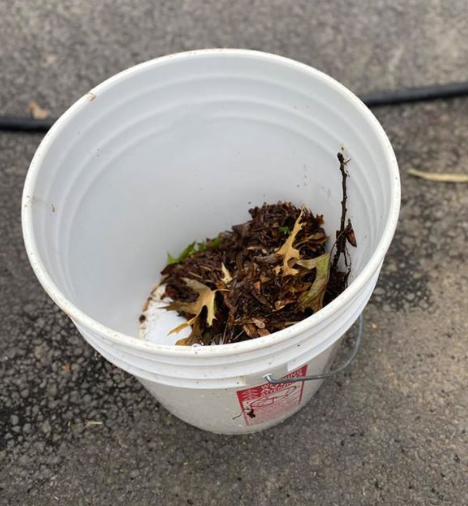 Final Word on Gutter Companies:
Whether you need new seamless gutters installed, you're considering gutter guards, or you need a contractor to check out the condition of your channels – the Gutter Gurus of Woodbridge got you covered.

We stand out by being one of the only gutter companies to offer instant pricing quotes and quick turn around install, all with high-quality work. To get started or to simply get a quick estimate, simply use this gutter calculator link to input your measurements!

If you need someone to inspect the condition of your gutters – let us know too!
Until next time,
~Leafie
---
Gutter Gurus of Woodbridge, Va, proudly serves the Northern Virginia region for all gutter services, including gutter installation, gutter guards and gutter repair.
Please note, this website is owned and operated by Luke Mitchell of Top Dog Home Pro. We offer this website as a consumer information tool for gutters only! To learn about roofing, gutters, and more, be sure to visit Top Dog Home Pro!

Use our Gutter Calculator:
You can get an instant gutter quote online for free simply by using our
Gutter Caculator Tool!